Managed and Targeted Pollination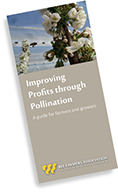 A useful guide – Improving Profits through Pollination: A guide for Farmers and Growers – is available to download.
Much of our diet relies on crops being pollinated properly. The bee farming industry, through the provision of managed and targeted pollination services, is in a unique position to help improve crop yields and increase productivity.
Managed honey bees are the most efficient means to ensure successful pollination of a wide range of crops, including: top fruits, soft fruits, oilseed rape (OSR), field beans and borage.
The increased size of today's fields and orchards along with the high costs of fertilisers mean that growers should consider the benefits of managed pollination. Introducing the correct number of honey bee colonies into or around crops at the optimum time guarantees pollination. This increases yield and provides better quality fruit. Wild pollinator populations (eg, bumblebees, solitary bees, hoverflies) are at an all-time low and most feral honey bee colonies have been lost to varroa – more reasons why pollination management has become increasingly important to the farmer and the environment.
In early spring, when they are most needed, natural pollinators such as bumblebees and solitary bees are few in number. By comparison, honey bee colonies coming out of the winter will contain 25,000-30,000 bees – a much larger active pollination force.
Oilseed Rape (OSR)
Research in Canada shows an improvement in seed yield of 15-20 per cent with the introduction of two honey bee colonies per hectare (Sabbahi, 2005). There is also the benefit of uniform, early pod set with a shorter flowering period (by nearly four days) which could benefit disease control. If oilseed rape is grown for seed, germination success is increased from 83 per cent to 96 per cent through the presence of bees. Oil content is also increased by around four per cent.
Field Beans
More pods set on the lower trusses of field beans and yield can be increased by 1380 kg/ha with the introduction of managed honey bee colonies.
Borage
A high level of pollination is essential for borage to produce maximum yields. The flower heads of borage plants open for one day only. Therefore, it is crucial to get honey bee colonies to the crop just before flowering begins. Trials in New Zealand showed 20 per cent increase in yield when bees were introduced to the crop.
Top Fruits and Soft Fruits
Both top fruits and soft fruits benefit from managed pollination. Quality is far superior; seed content is high which makes for better shaped fruit and higher yields. The calcium content in apples is increased with insect pollination, giving the fruit a longer storage life. Honey bees need to be introduced to these crops once there is approximately five per cent blossom. This encourages the bees to work right away. If they are placed too early, they may search for other food sources away from target crops.
Honey bees can be used in a polytunnel or greenhouse environment for soft fruits. Yields can be increased by 30 per cent and fruit size can increase by ten per cent. The proportion of misshapen fruit is also reduced significantly.
National Pollination Service
The Bee Farmers' Association is the only organisation in the United Kingdom (UK) to have a Pollination Secretary whose job is to ensure a high quality service is available to growers throughout the UK.
Members of the Bee Farmers' Association have generations of experience in providing the required quantity of honey bee colonies in an appropriate condition to work at the time they are required. Their professional expertise ensures they can work with growers to ensure the optimum placement and density of hives for maximum pollination, with minimum disruption to other farm activities.
The Bee Farmers' Association operates the National Pollination Service, which matches growers with professional bee farmers able to meet their needs. It is important to ensure orders for pollination are placed in good time as demand is high.
How it Works:
The Bee Farmers' Association maintain a register of professional bee farmers specialising in pollination work.
The grower places an order with the Bee Farmers' Association.
The contract is agreed between the Bee Farmers' Association and the grower.
The Bee Farmers' Association identifies a suitable bee farmer able to provide the pollination services required.
Delivery, placement, management and removal of the honey bee colonies is undertaken by the bee farmer.
The Bee Farmers' Association invoices the grower for the services provided and payment is made to the Bee Farmers' Association.
The Bee Farmers' Association makes payment to the bee farmer supplying the colonies under the contract.
Guaranteed Strength of Honey Bee Stocks
Stocks of bees are expected to meet a quality standard as advised by the Department of the Environment, Food and Rural Affairs (Defra). The Pollination Secretary or his/her nominee will inspect any stocks suspected of not meeting the required standard and supplied under contract. In the event of any stock being below the guaranteed strength, no charge will be made for the stock and no payment will be made to the bee farmer. Therefore, it is in the bee farmer's interest, as well as that of the hirer, to supply to the hirer the strongest stocks possible.
Further Information
For further information, including current prices, or to place an order, contact the Pollination Secretary.